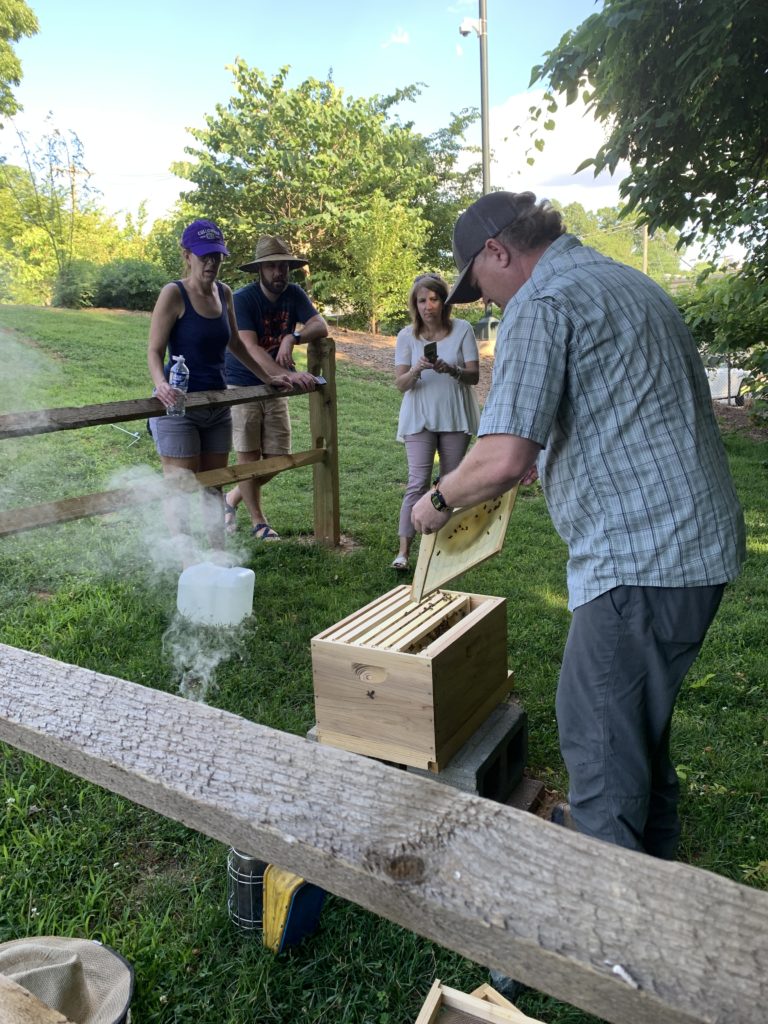 The Parks & Rec department of the city of Greensboro has been working on a 4 mile hike and bike trail that goes around the city. [ Downtown Greenway website ] The project has been underway for a number of years. There are 4 cornerstone parks on the greenway, and the one in the northwest corner at Smith Street and Prescott Street is called the Traditional Cornerstone and includes a large metal gazebo and a public orchard.
The public orchard was designed and installed in March 2014 by the Greensboro Permaculture Guild (gPg) with the effort spearheaded by Dr. Charlie Headington. Part of the park was originally native plants but they were not maintained and many have died. gPg volunteers still maintain the orchard and have added some plants in the native area. [ pictures ]
This summer, Charlie started talking to the parks people about adding a hive of bees at the orchard. There were already some discussions going on so in July a hive was added at the park.
There are a number of folks who are volunteers to help with the hive. The lead beekeeper (who lives very close to the orchard) is TJ Mayer. The coordinator with the parks that helps with the bee support is Laura Lorenz. And Dabney Sanders is the project manager and a huge supporter of the projects we create. John from Triad Bee Supply has been providing bees and equipment and support that has gone beyond what we could have hoped for. There are a number of volunteers — some with bee experience and some with no bee experience but curious and willing to learn.
One of the things the bee volunteers noticed this summer was that there really weren't many blooming plants at the orchard for the bees. We have been feeding the bees sugar syrup, but they also needed a lot of pollen to build the hive for fall. A chat with Jenny Kimmel (who is teaching the Permaculture Design Certification class this fall) and with Charlie started a new project. Charlie has gotten funding for adding pollinator plants to the orchard and that will be done in late September. You can view the list of plants that will be planted here: [ plant list ] Some of the bee volunteers will also be helping to keep the new plants watered. Like a bee hive, it takes a community working together to make all the pieces work!
Some pictures from out latest inspection on September 9, 2021.